Download the application from my website by using PayPal as the payment method.
https://myk9t.com
Save the executable file on your desktop or a known location.
Double click the executable file and follow the onscreen instructions.
NOTE *It is possible, depending on your PC setup, to get Windows or Virus Software warning messages when trying to install either the Access Runtime version or the myCFT application. Answer yes to any of these messages.*
Highly recommended to use all defaults.
Read the Welcome message and click Next>
Read and Accept the License Agreement and click Next>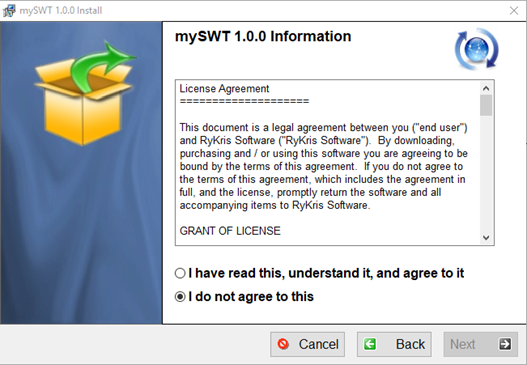 Wait for mySWT to be installed
Click OK>
Read Notice regarding linking data files and Click OK>
A shortcut icon to launch the myCFT application will be placed on your desktop and in your start menu.